What's changed in our Louisville real estate market since last year? For your latest market update, let's compare the stats from this October to those from October 2019: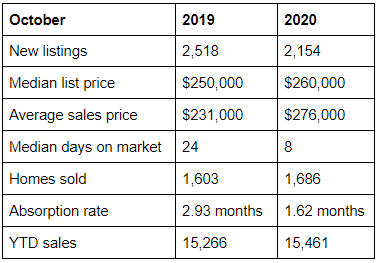 What do these stats indicate? We're in a strong, competitive seller's market that's driving prices up. Homes are selling incredibly quickly. Even though inventory is lower, we've sold more homes than we did last year.
"Homes are selling incredibly quickly."
Interest rates are also very low (high 2% to low 3% range), which helps the bottom line for your mortgage if you're a buyer. 2020 has been crazy so far, but with the holidays coming up, we need to focus on what we can be thankful for. Regardless of what's happened, we still have a lot to be thankful for in this country.
As always, we leave you with our quote of the week, and this one comes from none other than Mr. Rogers himself:
"There are three ways to ultimate success. The first way is to be kind. The second way is to be kind. The third way is to be kind."
Be thankful, and be kind to one another! If you have any real estate needs at all, don't hesitate to give our office a call. We'd love to help you, and we wish you a happy Thanksgiving.